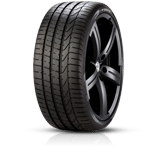 Pirelli Tyres P ZERO
A RANGE OF UHP (ULTRA HIGH PERFORMANCE) PRODUCTS THAT MEET THE SPORTING NEEDS OF THE MODERN DRIVER
Suitable for vehicles from the most prestigious and powerful GTs to high-performance city cars
Utilising the same processes as in the production of Formula One™ tyres, some of the key characteristics of the P ZERO™ range are optimised by the new P ZERO™ (Silver) , with the emphasis on durability.
The P ZERO™ (Silver) has been conceived for drivers who enjoy performance and use their cars frequently, allowing extended performance durability thanks to the multi compound materials.
The tyre can be identified by the silver "P ZERO™" label on the sidewall.
The P ZERO™ (Silver) offers high performance, safety and increased durability, thanks to innovative technologies that combine the characteristics of the soft and hard compounds. Developed for saloon and coupè vehicles that need top performances with enhanced durability.
FEATURES
FUNCTIONS
CUSTOMER BENEFITS
1 – Three solid longitudinal ribs
Increased pattern stiffness with optimised and constant contact area
Improved braking and traction performance also at high speed
2 – Outer shoulder with large rigid blocks
Higher lateral rigidity and steering response
Enhanced handling performance for sports driving
3 – Three wide longitudinal grooves
Fast water expulsion
Improved safety and control in potential aquaplaning situations
New multi-zone pattern
High mileage compound in the central area.
High grip compound in the shoulder area.
Extended performance durability